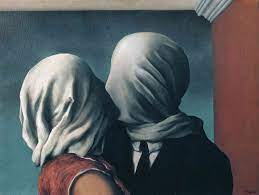 Rene Magritte, 1928, the lovers
If what women wear on their heads is misused as a symbol of putting women in their so-called place - which means to become invisible and powerless – we must make a stand. The women´s liberation movement in the Iran challenges neoliberal thought concepts of what a "headgear" should be good for.
There are many expressions by which we play with the meaning of the veil –
a mist in front of our eyes,
lifting the veil of secrecy,
to veil one´s face.
So, the veil is an important requisite of expressing identity. The feminine artful ways of loading a veil with a certain psychological energy should be retrieved as a cultural valuable.
We have a rich heritage that calls for transformation into modern times: The black veil made of laces in catholic belief, the transparent veil of a seductive dancer, the hijab that is thought to protect against selfishness, the dupatta that accompanies the Indian sari, the Russian babushka headscarf.
The veil is made to serve contradictory ways of communication, it can be used to tease, to hide, to play with expectations of the viewer and strengthen the power of the wearer.
In company culture the veils seem to be too sensual to get accepted as accessories for subtle communication. Their rich symbolic splendor of an ethno-religious sense of belonging, a tool of experimenting with digital technology integrated or natural fabrics, an act of fooling expectations of lechery is irritating for optimization mad decision making.
There is a way to go until for instance business meetings are occasions of celebrating emotional states of mind. Imagine a CEO must demonstrate the next business strategy by movements with a veil, or a hat or another magic object instead of throwing word phrases overloaded powerpoint prezzos to the wall. 
Celebrating freedom seeking as veil wearers is what I wish for us women and all others who have feminine aspirations. This liberating behavior includes the freedom that we cast off the veil whenever and wherever we like it.  
Dear Iranian sisters - I adore you!
Have a look into a modern dance performance of a liberating kind for veils and women. 
https://www.youtube.com/watch?v=HhfDsvfn990
 ###