Businesses in science-fiction films? Most times awful, not awesome.
Mainstream science-fiction relentlessly celebrates evil business leaders. 
The film plots meet the expectation that in a dystopic future only a few world-wide operating companies will rule the economy with an iron fist and by that destroying all fun-loving expressions and aspirations of the human society.

The dystopian business leader stereotype tries to hammer into our minds:
"A good boss is an unemotional, reckless war-lord".
Evil business leader idol: Dr Bernard Merrick

head of Merrick Biotech
in the film "the island" (2005).
His behavior is cold and calculating.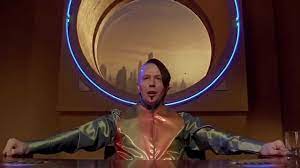 Evil business leader idol: 
Jean-Baptiste Emanuel Zorg

head of Zorg industries
in the film "the fifth element" (1997).
His behavior is unforgiving, envious, paranoidal.
These two characters illustrate what dystopian future business is about. You experience cynical, self-regarding, dominated by cramped ambition leader personalities with teams of subordinates consisting of reckless gangsters, efficiency-driven bureaucrats and cowardly scientists.
The personalities heading these business molechs are emotionally wretched individuals who follow a fanatic goal: relentless control over all areas of life on earth.
Is there an escape hole for the Bliss?
Patricia von Papstein
###